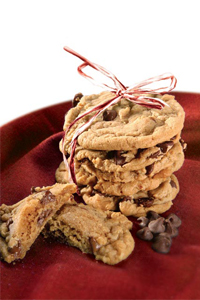 A Heart Felt Hug for the Tummy!
Everyone loves the taste of fresh cookies. The trouble is that most store-bought varieties and mixes are jam-packed with chemicals, preservatives, and fat. Who wants that in their cookies?
Meet Doodles Cookies, an all-natural, organic and gluten-free cookie mix that's as flavorful and delicious as it is good for you. Our first product is an organic chocolate chip cookie mix that makes cookies that taste just like the ones your mom used to bake. The best part is that Doodles Cookies are healthier than the cookies you ate as a kid. Not only is the mix all organic, but the ingredients are ones that you'll quickly and easily recognize, like all brown rice flour, chocolate chips, oats, and brown sugar. You don't need a science degree to read our label!
Doodles Cookies are also lower in calories and fat than traditional chocolate chips. One Doodles Cookie will only set you back 90 calories and 2 grams of fat. That's because instead of oil or butter, our mix calls for low cal, high-fiber applesauce, which keeps the cookies moist without adding extra fat. That means our chocolate chip cookies aren't just an indulgence—they're also a sensible treat for both adults and children.
Our chocolate chip cookie mix is just the beginning! But don't take our word for it—taste for yourself! Click here to order these and other delicious varieties. Happy baking and eating!